Corporate & Large Function Catering
If you are hosting a large gala, an employee appreciation bbq, a small brainstorming luncheon, or a milestone celebration, we can cater your event!
We understand that high quality and delicious food, professionalism, and efficiency are all elements that make a great and memorable event. Let us take care of your guests and their hungry stomachs at your next function! Satisfaction Guaranteed!
Contact us for a Personalized Quote:
Choose 2 Selections

1/2 lb. Pulled Pork on a Bun
1/2 lb. Shaved Brisket on a Bun
Mega Cheesy Mac n Cheese
Smoked Applewood Quarter Chicken
1/2 Rack of Pork Back Ribs
Chef's Taco of the Month

Choose 3 Selections

Country Baked Beans
Homestyle Potato Salad
Mini Cornbreads
Creamy Macaroni Salad

Better Than Pie Fry Pies

Deep Fried and Glazed Hand Pies with Seasonal Fruit Filling!
How to Order:
Choose your menu selections
Choose individual or group packaging
Choose pick up or delivery
Call or email to place your order!
Buffet Options
Check out our delicious Buffet Options!
Buffet Selections:
MEAT ENTREE'S
BBQ'd Prime Rib with Savoury Herb Rub
Grilled Herb Chicken Breast
Cedar Plank Salmon Fillet with Caper Dill Butter
Herb Crusted BBQ'd Roast Beef
Sweet n' Smokey BBQ Chicken
BBQ'd Whole Pig on a Spit
Smokey BBQ Back Ribs
Slow Roasted Hickory Pulled Pork
The House All Beef Cheeseburger
Debrazini Sausages
Lester Hot Dogs
BBQ'd Turkey (Seasonal)
Smoked Ham with Sweet Mustard Glaze (Seasonal)
PASTA ENTREE'S
Mega Cheesy Mac and Cheese
Four Cheese Beef Lasagna
POTATOES
Creamy Mashed Potatoes
Herbed Red Roasted Potatoes
Baked Potatoes
Baked Potato Bar
(Sour Cream, Cheddar Cheese, Butter, Bacon Bits, and Green Onions)
SALAD BAR
Citrus Spinach Salad
(Mandarins, Candied Pecans, Dried Cranberries, House Citrus Honey Vinaigrette)
Chef's Garden Salad
(Fresh Garden Vegetables, Market Greens, and Dressing Variety)
Caesar Salad
(Fresh Crisp Romaine Hearts, Parmesan Cheese, Real Bacon Bits, House Croutons, Caesar Dressing)
Broccoli and Cheddar Salad
(Broccoli Florets, Real Bacon Chunks, Shredded Cheddar Cheese, Creamy House Dressing)
Savoy Cabbage Slaw
(Savoy Cabbage, Red Cabbage, Julienne Carrots, House Coleslaw Dressing)
Homestyle Potato Salad
(Potato Cubes, Eggs, Fresh Herbs, Bacon Chunks, House Potato Dressing)
Creamy Macaroni Salad
(Macaroni, Diced Celery, Bell Peppers, English Cucumbers and Creamy House Dressing)
VEGETABLES
Herb Buttered Whole Kernel Corn
Honey Glazed Carrots
Roasted Garlic Green Beans
Country Baked Beans
Seasonal Roasted Vegetable Medley
Turnip Mash (Seasonal)
Corn Cobs (Seasonal)
Butter, Parmesan and Fresh Parsley
DESSERTS
Fruit Pies
(Apple, Cherry, Blueberry)
Pumpkin Pie
(Seasonal)
Mini Cheesecakes
(Cherry, Blueberry, Original)
Home Baked Sweet Tray Variety
(Jumbo Cookie and Butter Tart Variety)
Black Forest Trifle
Fruit Platter
DRINKS
Hot Coffee and Tea Bar
Assorted Chilled Pop and Water
Small Chocolate and White Milk
Rustic Drink Trio
(Lemonade, Ice Tea, Sparkling Fruit Punch)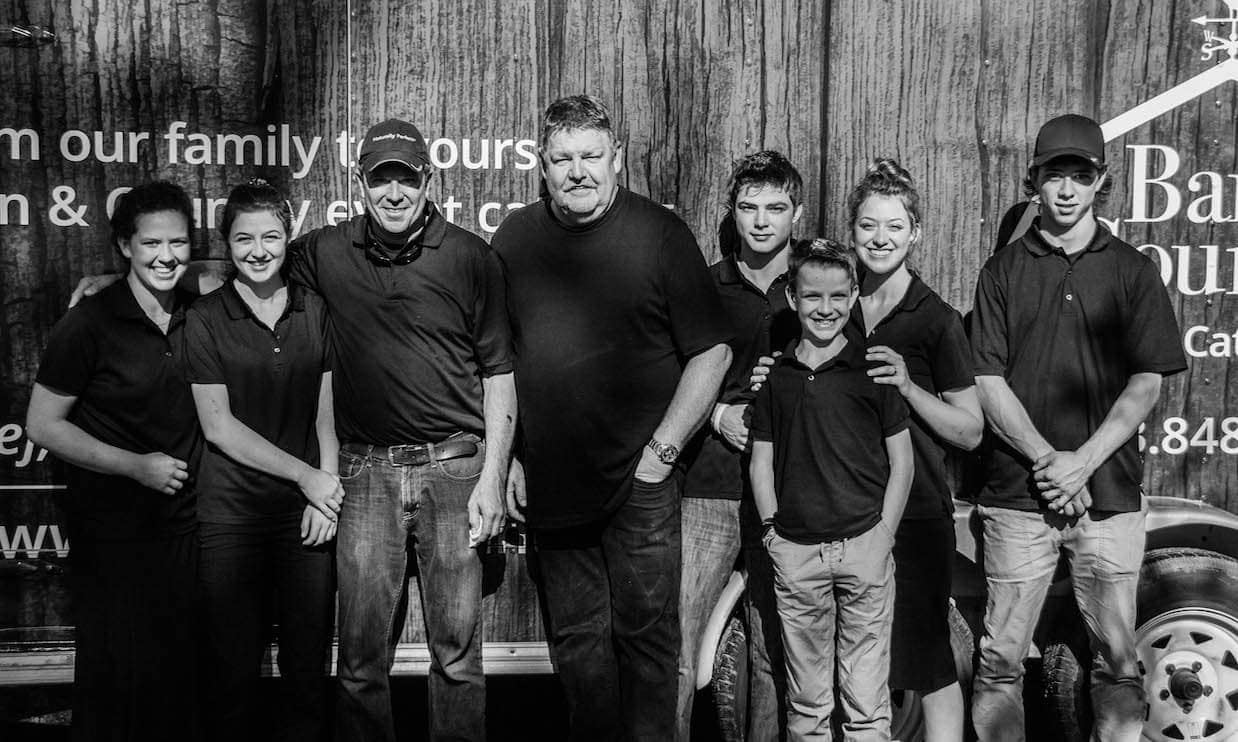 Thank You, Everyone!
Celebrate with Barn and Country's Business and Corporate Catering Services.
We are the perfect companion for local business events in Belleville, Stirling, and all of Hastings County, Prince Edward County and the rest of the Bay of Quinte Region.